Discover the Secret to Radiant Hair and Scalp Health: Why Suchehwa is the Best Treatment Option in Singapore
A good hair day is so much more than having hair that sits in place.  Your hair is a reflection of your personality and style, but keeping it looking good can be a real challenge. Between hectic schedules, weather changes, and the constant use of heat styling tools, it's no wonder that maintaining healthy and beautiful hair can seem like an uphill battle. It's easy to get frustrated when your hair does not cooperate with the hairstyle that you are trying to achieve even after watching the same tutorial video over and over again. Getting a hair and scalp treatment can give you stronger and healthier hair so your hair can fall perfectly without you trying, as Bruno Mars famously sang.
The benefits of hair treatments go far beyond aesthetic improvement but also target scalp and hair health. From boosting your confidence to making a great first impression, taking care of your hair is essential for looking and feeling your best. Read on to find out more about the options available to improve your hair health from lifestyle decisions to professional salon treatments including the Suchewa hair treatment.
Understanding The Importance of Hair and Scalp Health
Did you know that your hair and scalp health is a powerful indicator of your overall health and serves a protective function? The hair and scalp act as a protective barrier for the head against factors like UV rays and pollutants, and help to regulate body temperature by releasing and retaining heat according to environmental conditions. Monitoring your hair health through signs like hair loss, hair thinning and hair breakage can be indicators of underlying health concerns like a lack of nutrition, hormonal imbalances or stress. 
Several external factors, including excessive heat styling with tools like hair straighteners, curling irons, or blow dryers, can also cause hair damage. Chemical treatments like colouring, perming or relaxing can also lead to hair damage if not done correctly or if done too frequently. Over-washing or using harsh shampoos that strip natural oils from the hair can result in dryness and breakage. Even exposure to environmental factors like sun, wind, and pollution can also contribute to hair damage. It's important to identify the cause of hair damage and take steps to prevent further damage by adopting healthy hair practices and using products that nourish and protect the hair.
Taking care of you hair can start at home, by reviewing your lifestyle and examining your hygiene.
Here are some simple tips that can keep your scalp healthy and your hair fresh.
Regular hair wash routine
 In Singapore's hot and humid weather, we recommend washing your hair daily to remove dirt, oil, and product buildup. Avoid using hot water for washing, as it can strip natural oils from your scalp, causing dryness. Similarly, stay away from harsh shampoos.
Apply shampoo on your palm first. Rub palms to lather, then apply on the scalp. Massage scalp gently, rather than scratching with fingernails, as this might cause open wounds, leading to bacteria infections. Don't apply conditioner to your scalp, as it can leave residue if not rinsed thoroughly. For optimal hydration, apply conditioner to the length and ends of your hair.
Drying your hair
Air Drying Hair Can Be More Damaging Than Blow Drying. Why?
New studies by a group of Korean doctors suggest that air drying your hair may not necessarily be better for your hair. The reason being longer contact with water is actually more harmful to hair than the temperature of hair drying. According to the findings of this study, it appears that using a hair dryer at a distance of 15 cm and moving it continuously is less harmful to hair compared to air drying.
In addition, air-drying may lead to increased frizz, build-up, and mildew, particularly for individuals with frizzy and curly hair. If hair remains wet or damp for an extended period, it can attract bacteria and fungus, which is more common in dense hair. As a result, stylists often advise against sleeping with wet hair since it creates an ideal environment for scalp mold, bacteria, and fungus to develop.
So, Is It Ok To Use Heat?
Ultimately, the reassuring aspect of this is that we can be confident that blow dryers are not as harmful as we previously believed, provided that they are used properly.
Diffusing is safe and great for improving hair texture because the larger surface area of the hairdryer's airflow distributes heat and speed more evenly, resulting in a gentler treatment for the hair.
Don't forget to use hair products that hydrate and protect the hair before styling. If you must use high heat or hot irons, always protect the hair with a heat protection product first.
Use tight hairstyles like high ponytails, tight buns, and braids sparingly to prevent hair breakage. Opt for claw clips instead of hair ties, as they don't tug or crease hair, making them a better alternative for putting your hair up.
Nutritious Diet
Having a well-balanced diet can give your body the right nutrients for healthier hair. Eggs are a great source of protein and contain biotin and vitamin B12 which can help hair growth and strength. Leafy greens like spinach can also help to support your hair health with vitamins A and C that help to produce sebum to moisturise your scalp. Salmon can also nourish your hair follicles with its omega-3 fatty acids and Vitamin D.
While these tips are generally good to follow for a healthy scalp, each person has a unique scalp. Visiting a salon will give you the chance to let a professional evaluate the state of your scalp and hair and give the right advice tailored to your needs.
Hair & Scalp Treatment Options in Singapore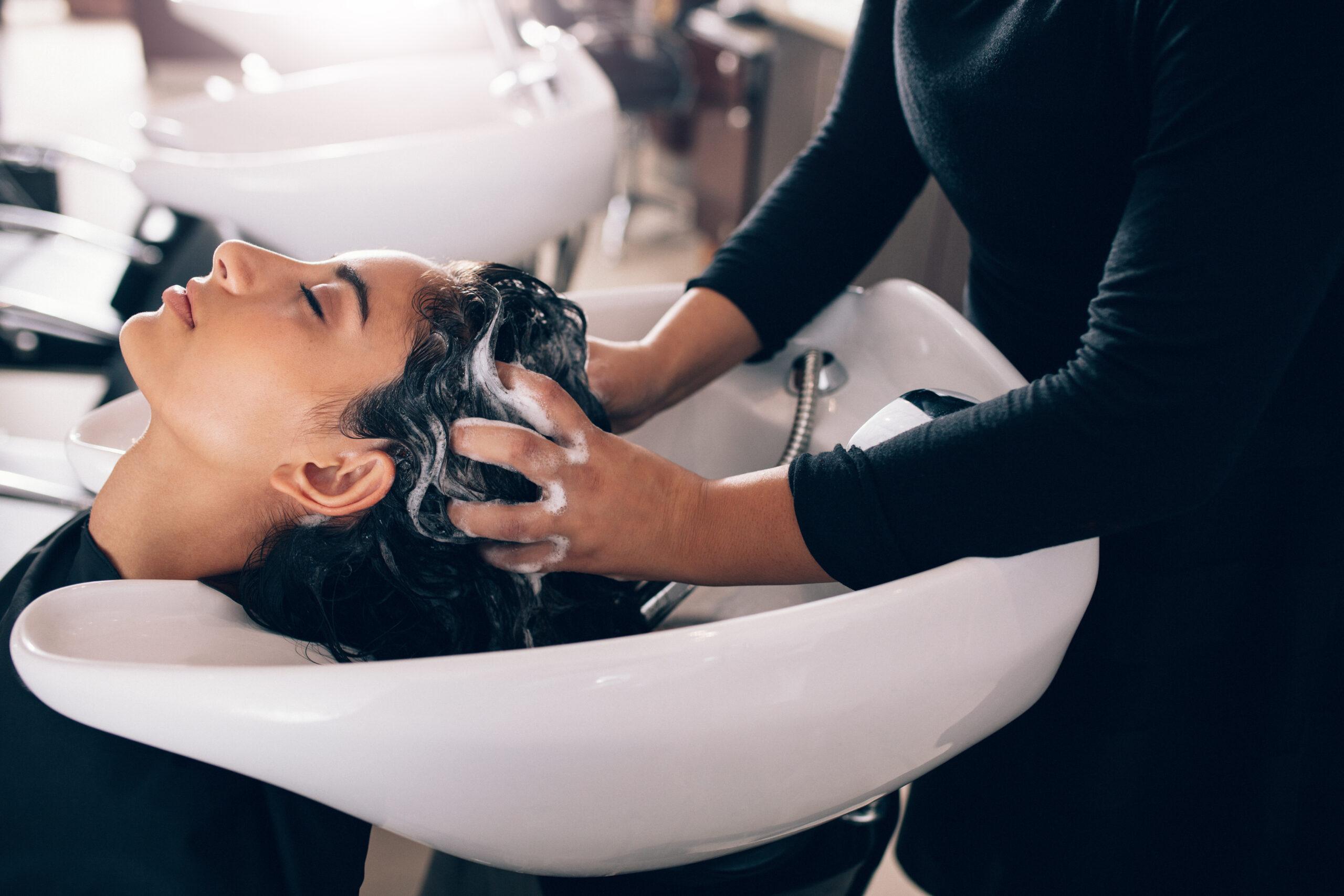 With each salon using different names for their signature hair treatments, it might be difficult to understand what exactly each treatment is for. Here are some of the most common hair treatments that can help to restore your hair to good health.
Keratin Treatment
Finding a solution to frizzy hair is like a dream come true in Singapore's humid conditions. Keratin treatment is a semi-permanent solution to get silky smooth hair without excessive heat. As a heat-activated treatment, you need to blow dry your hair often to activate its anti-frizz properties. With the treatment applied only to the hair, not the scalp, it won't cause hair loss.
Scalp Treatment
A scalp treatment is a hair care treatment designed to address specific scalp issues such as dryness, dandruff, oily scalp, or hair loss. These treatments can help improve the health of the scalp and ultimately improve the appearance and health of the hair.
Suchehwa Derma Relief Scalp Treatment
Suchehwa Derma Relief Scalp Treatment is a customized course of treatment catered to address different scalp concerns:
For hair loss concerns, we focus on preventative care against the early stages of hair loss for fine, delicate and thinning hair. Rejuvenator Technology penetrates scalp cells, nourishing them with essential minerals – Vitamin H improves keratin for stronger hair, Caffeine stimulates circulation, and Takanal activates cell metabolism.
For oily scalp concerns, the treatment focuses on calming the scalp and regulating its sebum level by slowing sebum production.
For oily or dry dandruff concerns, our treatment contains Octopirox which helps alleviate itching caused by seborrheic dermatitis, thus preventing dandruff formation.
The Derma relief Scalp Treatment starts with a simple wash to remove excess dust and dirt, followed by a gentle massage with natural perlite micro-grains that exfoliate the scalp and stimulate cell renewal. The scalp and hair are then given a deep cleansing wash with a suitable shampoo specifically formulated for your scalp condition.
After shampoo, a scalp mask is applied with a relaxing head massage before washing off. This is followed by an application of scalp serum, and finally a blowdry to finish off.
Introducing The Suchehwa Aqua Revival Hair Treatment
Untamed hair often turns bad hair days into bad days due to frustration. The Suchehwa Aqua Revival Hair Treatment combines the best of Mother Nature's goodness to uplift and rejuvenate your hair.
Here are the rare ingredients that go into every Suchehwa Aqua Revival Hair Treatment.
Mountain Water from Quebec
Sourced from the mountains in Quebec, this precious ingredient only runs for 14 days a year. We use it in every step of the process for its moisturizing properties that rejuvenate the hair.
Shakran Sacran
This freshwater algae harvested from the waters in Kyushu also carries with it nature's moisturising power.
Meadowfoam seed oil & Delta-lactone
With anti-ageing and moisturising properties, these ingredients can help to improve skin elasticity so it feels like you are doing a facial for your scalp. 
Shea Butter
Created from the seeds of the Shea tree, Shea Butter has anti-inflammatory and regenerative properties while giving your hair UV protection and stimulating capillaries to moisturise for hair and scalp health.
The Treatment Process
To remove all the product and impurities buildup, the hair is first shampooed and washed twice to prepare for the remaining products to be well absorbed into the hair and scalp.
After blow-drying the hair to 70%-80% dryness with both hot and cold air, we spray, massage, and comb the solution of Shakran Sacran, Quebec Water, Pyrenoid, and Hyaluronic acid into the hair, ensuring it reaches every strand.
We section the hair next, and apply the solution using a brush. Then, we mist the hair for 10 to 15 minutes. This step provides various minerals and proteins to damaged hair and maximizes the protein retention period for a defrizzed and soft finish.
Next, a solution of Quebec Water, Pyrenoids, Shakran Sacran, Tocopherol, Meadowfoam seed oil and Delta-lactone is brushed into the hair. The hair is then wrapped and undergoes a heat treatment for 10 to 15 minutes at low heat.  This step helps the hair to retain moisture better and smoothen the hair.
After the hair is towel dried and blow-dried, a light cream with added ingredients like Macadamia Nut Oil, Shea Butter and Avocado Oil is applied onto the hair to restore damaged cuticles and create a protective film over the cuticles. 
Now, your hair is red carpet ready. To take your hair to the next level, you may choose to dye or perm so you can look just like the celebrities you want to look like.
Here are some pictures of our clientele who have transformed their hair from dry and frizzy to voluminous and nourished. 
The best part about the Suchehwa Treatment is that its benefits go beyond what the eyes can see. Apart from bouncy and glossy hair, your hair becomes stronger and your scalp cleaner. To retain the benefits of your new hair. It is best to use a mild shampoo for at least 2 weeks after the treatment so that the scalp can remain hydrated. 
Book a Suchehwa Treatment Today
If you are looking for rejuvenated hair without harsh chemicals and high heat, then look no further than Suchehwa by Ted salon. Apart from our signature Suchehwa Hair and Scalp Treatment, we offer hair colouring, haircut, perming, straightening, and manicure services. Our commitment to staying up-to-date with the latest advancements in hair care science, salon technology, and global trends enables us to help you achieve your ultimate hair goals and feel confident about your hair.
In Singapore, there have been numerous accounts of salon horror stories where hairstylists pressure clients into purchasing specific products, undergoing certain treatments, signing packages, or charging unexpected fees, leading to an unpleasant experience. However, at Suchehwa by Ted, our top priority is to provide exceptional customer service that ensures you feel at ease right from the moment you reach out to us. Our hairstylists carefully listen to your desired look and take into account your hair's texture, health, and face shape to offer personalized recommendations.
We don't just make your hair beautiful, we make it healthier. Set aside some time to indulge in our salon experience, where our skilled stylists, cozy atmosphere, and complimentary refreshments will leave you feeling great even before your treatment is complete.
Whatsapp us at 8831 9798 or make an appointment online for better hair today.
Share this article: